A royal forest

The present day Cannock Chase forms part of what was once a vast piece of
land that stretched from Stafford as far south as Sutton Coldfield. It was uncultivated land, inhabited by deer, wild boar and wolves. In 1086, William the Conqueror declared it to be his royal hunting forest.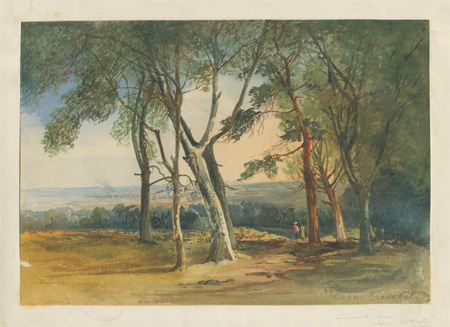 A picturesque scene of Cannock Chase near Hatherton, showing some of the heathland which by this time covered much of the area.
This watercolour is by J Adveno Brooke.
Courtesy of the Trustees of the William Salt Library, Stafford
A royal forest was not necessarily wooded. It had much more open space than we see today, with native broadleaf trees rather than the present-day pines.
People lived in settlements around the forest and used the land for grazing animals and growing crops. Trees were coppiced and pollarded (cut back to encourage the growth of new, straight stems). They could then be used to make wooden items such as hurdles (frameworks of interwoven branches, usually used for enclosing land or livestock).

The Bishop's 'Chase'

In 1290 part of Cannock Forest became the Bishop of Coventry and Lichfield's 'Chase', a term that referred to a forest controlled by an individual rather than a monarch.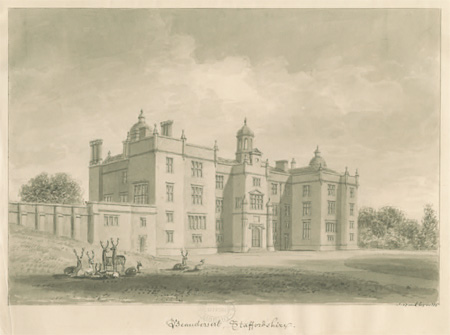 The Bishop of Coventry and Lichfield established a deer park and hunting lodge
here in the 13th century. It was called Beaudesert, meaning 'beautiful wild place'. This drawing of Beaudesert by J Buckler is dated 1815.
Courtesy of the Trustees of the William Salt Library, Stafford
Deforestation in the 16th century

From the 13th century there are records of iron forges in Cannock Forest. In 1546 a number of local manors were sold to Sir William Paget, who realised that the area's plentiful supply of ironstone, wood and water power could be used to develop the nearby iron industry. By 1584 Paget's ironworks were producing 164 tons of iron per year, which created a great demand for charcoal. A few years later the courtier Fulke Greville gained a lease on two of Paget's forges and furnaces, and on 3,123 acres of woodland. By the end of the 16th century most of the coppiced and pollarded woodland had been felled for charcoal.

The destruction of the forest greatly enlarged existing areas of heathland. During the 17th and 18th centuries it was used extensively for the grazing of animals.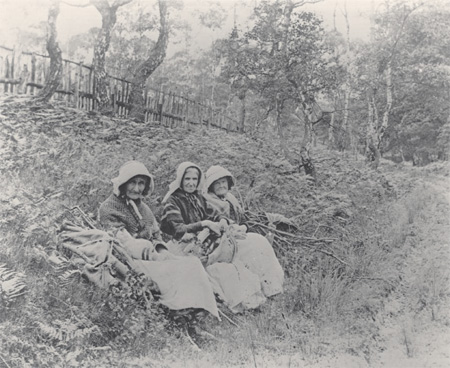 For many centuries local people have used the natural resources
provided by Cannock Chase. These women were photographed
collecting wood in 1896.
Image courtesy of Staffordshire Arts & Museum Service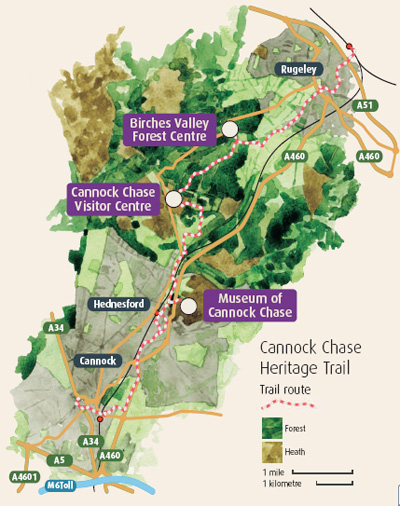 In the 19th century, landowners started planting trees on parts of Cannock Chase, but during the Great War many of the trees were felled. Timber was being used for trench-building and industry, and by the end of the war the national timber reserve had been stretched to breaking point.

This led to the formation of the Forestry Commission in 1919. Planting on Cannock Chase began soon after, and trees dating back to this time can still be found here. In 1939 alone, about 5,300 acres were converted from heathland to pine plantation. After the Second World War, forestry became an important industry for the area.
Since the 1970s, the Forestry Commission has given increasing attention to landscaping, recreation, conservation and environmental protection. These
are now seen as being equal in importance to its original purpose of timber production.

You can find out more about what The Forestry Commission offer here at Birches Valley by visiting the Forest Centre.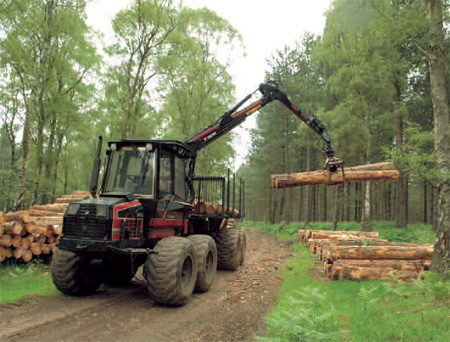 The Forestry Commission manages 2,300 hectares of
woodland on Cannock Chase for multi-purpose benefits