The Wildlife of Cannock Chase
An outstanding wildlife habitat

In 1957 the 3rd Earl of Lichfield gifted over 2,000 acres of the north-west part of Cannock Chase to Staffordshire County Council. This is the main area of today's Cannock Chase Country Park. Its 5 square miles (1300 hectares) make it one
of the largest Country Parks in Britain.

In 1958 Cannock Chase received national recognition as an Area of Outstanding Natural Beauty (AONB). At only 26 squares miles (6,800 hectares), it is the smallest AONB in mainland Britain.

Large parts of the Country Park and other areas of Cannock Chase are a Site of Special Scientific Interest (SSSI). Part of the SSSI is also a designated Special Area of Conservation (SAC), in recognition of its status as an internationally
important wildlife habitat.
Mammals

One of the major attractions of Cannock Chase is the ancient herd of fallow deer.
The main herd tends to remain in the centre of Cannock Chase throughout the
year, with the males moving in from the outlying woodlands in time for the annual
rut in October. Smaller numbers of red deer are to be found, whilst the muntjac, hardly bigger than a large dog, is present but is very secretive in its habits.

The rich habitats of Cannock Chase also provide food and shelter for foxes, badgers, rabbits, grey squirrels, stoats, weasels, field mice and voles.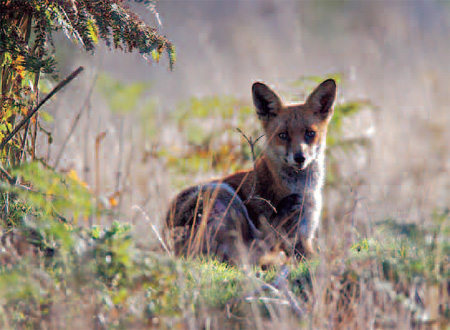 The fox, Vulpes vulpes, can be found in both rural and urban areas
of Cannock Chase. Foxes spend much of the day-time in their
underground home (an 'earth'). Photograph by Chris Blackburn.
Plant life
The underlying soils of Cannock Chase give rise to wide expanses of open heathland covering much of the higher ground. A rare hybrid bilberry, known locally as the'Cannock Chase' berry, grows among the heather and bracken that are dominant in these dry areas.

In the heathland and wetland areas grasses such as wavy hair grass, purple moor grass, fescues and cotton grass can be found. The mires contain sphagnum or bog moss and other species including round-leaved sundew
and marsh violet.

Traces of the ancient woodland can still be seen in the widespread scattered oaks, especially in Brocton Coppice, where about two hundred still survive.
Reptiles

The most common reptiles are the adder and common lizard, which you might see in both wet and dry places. Frogs and toads are also common. Grass snakes and slow worms are rarer, and seldom seen.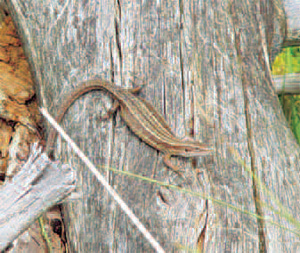 The common lizard, Zootoca vivipara, is widespread
on Cannock Chase but seldom seen as it is very shy.
It gives birth to live young in late summer, which are
almost black in colour and can be more easily seen
than the adults. You may be able to spot one
sunbathing on logs and the sides of paths,
particularly along the Sherbrook Valley and Oldacre
Valley.
Image courtesy of Andy Jukes
Invertebrates

Characteristic Cannock Chase butterflies include the green hairstreak and the small pearl-bordered fritillary, which is largely confined to one or two of the wetland areas. Cannock Chase has at least a dozen species of dragonfly, including the large and brilliantly coloured common and southern hawkers. The rare bog bush cricket is found on the taller grasses, while the common field, mottled and common green grasshoppers can be heard in mid and late summer.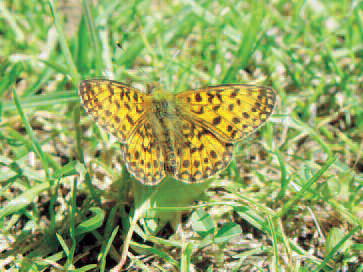 Small pearl-bordered fritillary, Boloria selene (Clossiana
selene). During its time as a caterpillar, it feeds mainly
on marsh violet, Viola palustris
Image courtesy of Andy Jukes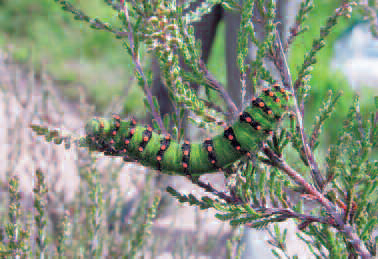 The emperor moth, Saturnia pavonia, is a large moth. The males
can be seen flying fast over the heathland during the day time
in April and May. This caterpillar will spend the winter as a pupa
inside a cocoon and the adult moth will emerge in April
Image courtesy of Andy Juke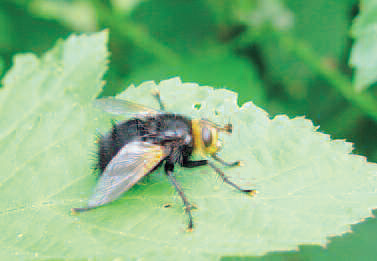 The Tachina grossa is a large fly the size of a bumblebee.
They are common in certain parts of Cannock Chase. Their young are
a parasite of large hairy caterpillars, in which their larvae develop
Image courtesy of Andy Jukes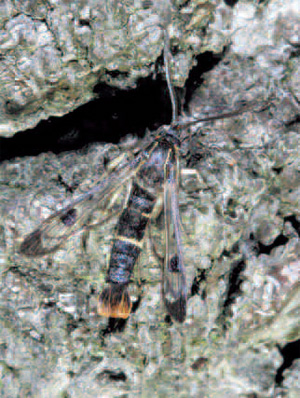 The welsh clearwing, Synanthedon scoliaeformis. This elusive day-flying
moth was previously thought to be extinct on Cannock Chase, but was rediscovered just a few years ago
Image courtesy of GC Slawson
Birds

Many familiar garden species of bird, such as thrush and robin can be found on Cannock Chase. Woodland birds include the solitary woodcock, greater spotted
and lesser spotted woodpecker, treecreeper, crossbill and nuthatch. Goldcrest and great, blue, coal, marsh, willow and long tailed tits and sparrowhawks and
tawny and long-eared owls may also be seen.
Wetland areas attract wagtails, reed bunting, kingfishers, mallard, coot, teal, little grebe and heron. On the heathlands, yellowhammer and linnet inhabit
the scrubby areas, and, high above, skylark and meadow pipit fill the air with song. The open heathlands attract the occasional kestrel, short-eared owl and hen harrier.

Migrant birds arriving in autumn and winter include siskin and redpoll. Flocks of fieldfare and redwing are often seen in the more open scrubby areas.

Summer brings the willow warbler, whitethroat, chiffchaff, blackcap, garden warbler, redstart, spotted flycatcher and wood warbler. Noteworthy species
breeding on the heathlands are stonechat, whinchat, tree pipit, and nightjar.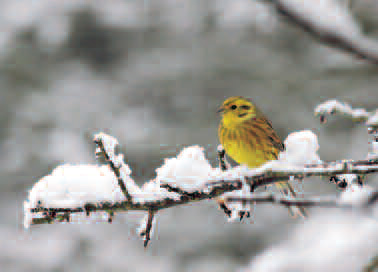 The yellowhammer, Emberiza citrinella, can be found on
scrubby areas of heathland. This is a male – the female
has more subdued colours.
Photograph by Chris Blackburn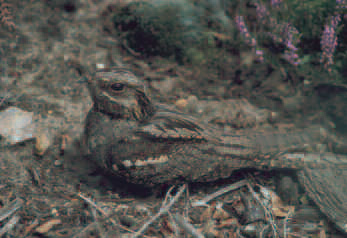 Among the noteworthy species of bird breeding on
Cannock Chase is the nightjar, Caprimulgus europaeus,
whose main stronghold in the Midlands is found on
these heathlands and on nearby forest clearfells.
Image courtesy of Gerald Downey (rspb-images.com)