The Military History of Cannock Chase

Cannock Chase has a long military history. Its open heathland landscape, central location, cheap land, good transport links and plentiful supply of coal
made it particularly suitable for military training.
In the 1860s the War Office considered relocating the nation's arsenal from Woolwich to Cannock Chase, but the scheme was never implemented.
In the autumn of 1873 Cannock Chase was used for large-scale manoeuvres involving cavalry, artillery and infantry units of the Regular Army. In the late 19th
century volunteer units used the area for manoeuvres and set up temporary camps.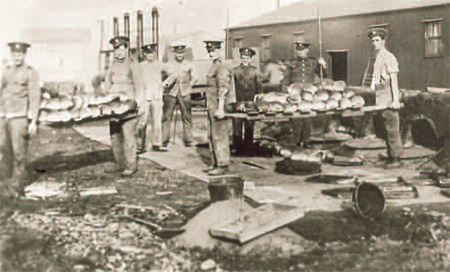 Men of the Army Service Corps stand outside the Field Bakery at Brocton Camp. They are holding pallets laden with bread loaves for baking
in the brick and clay ovens.
Image courtesy of the Museum of Cannock Chase
The Great War Camps

During the Great War, two huge military training camps – Brocton Camp and Rugeley (or Penkridge Bank) Camp – were established on Cannock Chase.
Each was like a small town, with its own facilities including chapels, banks and post offices. The camps contributed to the development of transport links in the area, as roads and railways were built to serve them.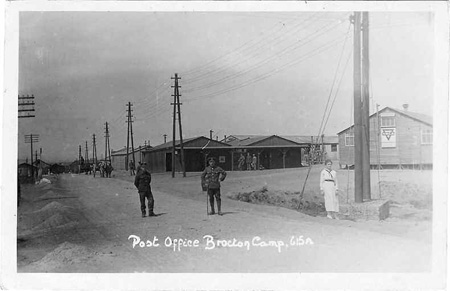 The post office at Brocton Camp, one of the two large military training
camps that were established on Cannock Chase during the Great War.
Image courtesy of Ray Smith
RAF Hednesford

Cannock Chase's military association continued after the Great War. In 1939 an RAF training camp was established here, in the area around Cannock Chase Visitor Centre.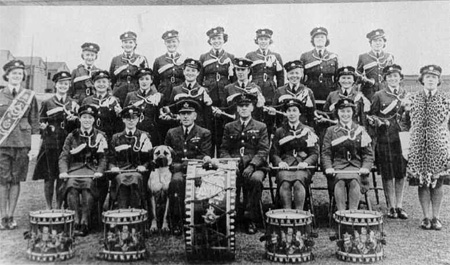 The WAAF (Women's Auxiliary Air Force) Wing Voluntary Band at RAF Hednesford. The Great Dane pictured in the centre was their mascot.
Image reproduced by kind permission of Mrs Godwin
Like the Great War camps, RAF Hednesford functioned as a self-contained unit with a range of its own facilities. Between 1950 and 1956 it was used for National Service training, and from 1956, after an uprising against Communism in Hungary, it became a resettlement camp for Hungarian refugees.

In 1959 the site and most of its fittings were put up for auction. In 1965 the land was acquired by Staffordshire County Council and became part of Cannock Chase Country Park.

The roads and the foundations of a few buildings remain. There is a memorial stone and self-guided trail though the Camp, and you will find more information about RAF Hednesford in the Visitor Centre.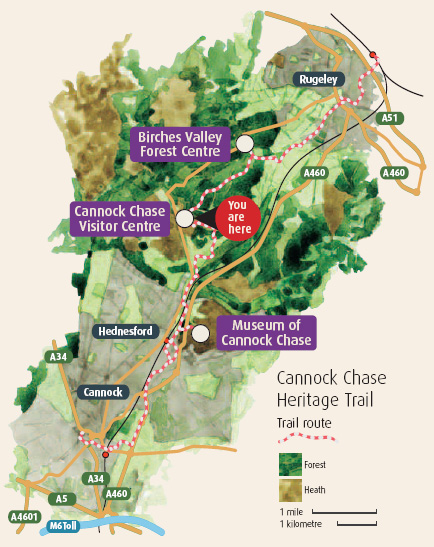 This trail passes close to wildlife sites of
international importance. Cycle wheels,
horse hooves, and feet, can severely
damage these sites, and out of control
dogs disturb wildlife. Please help us to
protect wildlife by remaining on
designated routes and by keeping dogs
under close control